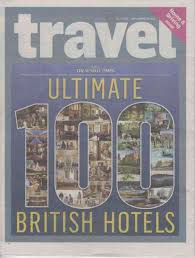 We are proud to announce that Escape recently made it on to The Sunday Times Ultimate 100 British Hotels list.
In addition, we are finalists in The National Tourism Awards for Wales in the best place to stay category for guest accommodation.
A B&B in llandudno? It could so easily go wrong. But these nine rooms don't hold back: fluffy cushions, crocheted memory quilts, recessed infinity light mirrors, shagpile carpets, a copper rolltop bathtub. there's no messing around with breakfast – it's a traditional welsh fry-up, with local back bacon, fresh farm eggs and laver bread. There's a Rhydlewis smoked sales and scrambled egg, too.
The Sunday Times Ultimate British Hotels (Pages 8-9, September 29, 2013)